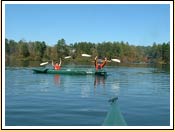 Wilderness Lodge Canoe & Kayak
Canoes, kayaks and mountain bikes are available to meet your recreation needs. You can rent a canoe, kayak or mountain bike for the whole day, or for a few hours and explore the 55 miles of shoreline the lake has to offer, or the endless miles of trails around the lake. Reservations are recommended, but not required. Visa/MasterCard accepted.

Equipment Rental Rates
Rates are based on two person canoes or solo person kayaks. Mountain bike rentals are based on individual bikes.

Explorer (paddle up to 3 hrs)
Canoe
$20.00 (lake only)
Kayak
$20.00 (lake only)
Mountain Bike
$20.00
(8-Noon or 12-4pm)
Expedition (experience a full day)
Canoe
$40.00 (lake or river)
Kayak
$40.00 (lake or river)
Overnight
Campground Dropoff
$50.00
Additional Persons: $5.00
Group rates available; Additional gear and transport available; Visa/MasterCard accepted.

Your canoe trip will include gear for two, and your kayak trip includes gear for one. (Must be 18, or accompanied by an adult). RESERVATIONS ARE RECOMMENDED.

Deposits are required on the daily rentals and overnight trips. Visa/MasterCard required for damage or loss deposit.

Liability: All of us at Wilderness Lodge Canoe & Kayak want you to have a safe and memorable time, however, we assume no responsibility for your safety or for the loss or damage of your belongings or any equipment. Prior to renting any canoe or kayak you will be required to sign a Rules and Liability release form. PFD's are required to be worn during the rental of canoes and kayaks for your safety.